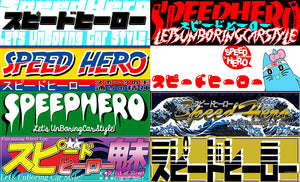 SpeedHero Slap Design
I'm constantly asked to design slaps for different people. I'd love to design yours!

-Size: 8.25" x 2.5" @ 600dpi.
-This is not a drawing service. I will not be translating your design concept into a finished product. Rather, I'll design you a sticker in my own style to fit your desired goal or mood.

What I need from you:
-Your intended goal: What do you want the slap to do? Is it a mood, a message or a certain niche your aiming for?
-Your logo (if you have one). I will need your logo in a vector format, or very large scale, and clear, JPG image.
-3 examples of anything, that portrays the "mood/style" you're trying to capture, and a written word of what that mood is.

What you get from me:
-High resolution printable file, with printing bleed included.
-The rights to produce and sell in any quantity.
-The artwork is the artwork, you get what I provide. I will guarantee it fits the mood/message/niche that you're targeting.